OnlyOffice is a word processor that we have in our Nextcloud. If this does not appear, we will contact our Nextcloud provider.
The benefits of OnlyOffice are many, here we have a few of them.
Compatibility with Microsoft Office and Open Document documents: DOC, DOCX, ODT, RTF, TXT, PDF, HTML, EPUB, XPS, DjVu, XLS, XLSX, ODS, CSV, PPT, PPTX, ODP.
In a single package – three editors and many functionalities: Create, view and edit text documents, spreadsheets and presentations of any size and complexity. Work with multiple files, of different types, in the same application in a comfortable way, with the same user interface.
Quick access to online collaboration features: OnlyOffice for Desktop can connect to a Onlyoffice Community Server to start working with files in real time, chat with other users, make joint editions of files, etc.
Possibility of extending the suite with add-ons: Create templates, insert YouTube videos and much more. OnlyOffice can be extended with existing add-ons or even create our own.
Updates and Technical Support: Regular updates and free of charge. In addition to quality technical support and fast using their Support Forums.
1. We can start using OnlyOffice in two different ways. One of them consists of Adding in our Nextcloud any file of our existing computer as long as it is a compatible file type specified above. Another way to use it is to create a new file from our Nextcloud. This can be a Text Document, a Spreadsheet or a Presentation.
2. We will go to the + button and create one of these three files.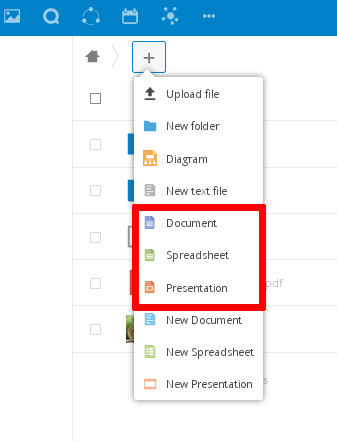 3. Once the file has been created or uploaded, we can open it and edit it like any word processor.